If you are looking for a trusted, expert teeth straightening dentist in Southend or Essex, then Royal Mews Dental Practice can help. We offer the latest treatments including fixed invisible ceramic braces, aligners such as Invisalign and removable appliances such as Inman aligners.
Teeth Straightening in Southend, Essex
An attractive smile can make you feel happier and more confident. Crooked or misaligned teeth can affect your confidence and can make you feel self-conscious about smiling. Crowded teeth can also be difficult to clean. Straightening your teeth could have a positive impact on your overall dental health. Because straighter teeth are less susceptible to tooth decay and gum disease, this could reduce the chance of possible further treatment in the future.
Some adults may feel they missed the opportunity to straighten their teeth at a younger age, but with the latest treatments you can improve your smile and start feeling more confident long after your teenage years.
Fixed Braces
Ceramic braces, sometimes called "white" or "clear braces" are a form of conventional orthodontic appliance using clear brackets which are fixed to the teeth and wires which are tied into the brackets. Their main difference from metal braces is simply the type of bracket that is used. With ceramic braces, they are clear or tooth-coloured (white), not metal.
A metal wire still has to be used, which runs through the middle of the brackets but these can have a tooth coloured coating which makes the wire less obvious. The coating on the wire can gradually wear or be brushed away between adjustment appointments. If this occurs too much, a new coated wire can be placed at the adjustment appointment. The wire is held in place in each tooth's bracket via an elastic band or little coated metal tie.
Fixed Braces case studies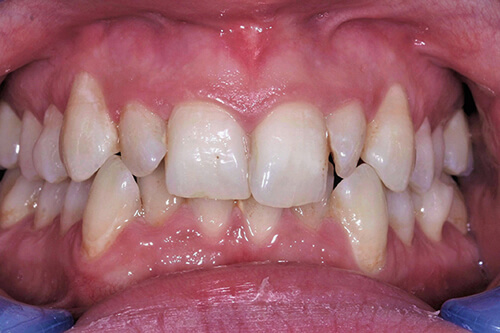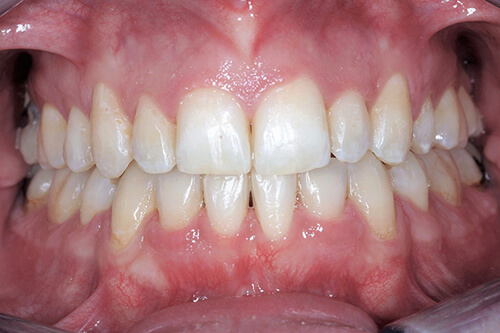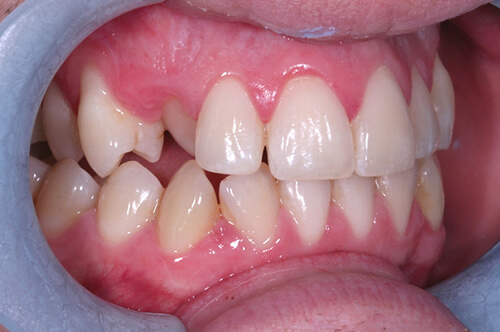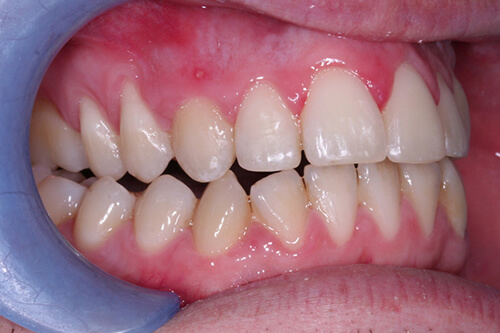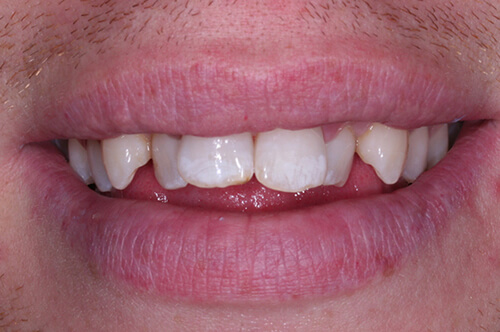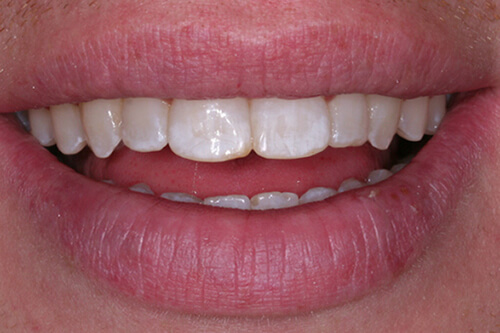 Ceramic braces
In the case of ceramic braces, a silver bracket is often used on the back molar teeth. The main advantage of choosing ceramic braces is that it creates a more pleasing, less conspicuous look for the patient.
The positioning of the bracket together with changing from round light wires through to rectangular stiffer wires gradually straightens the teeth.
Inman Aligner
The Inman Aligner is a removable appliance that quickly and safely straightens the front teeth. As it can be taken out, the treatment can fit around your lifestyle.
Free consultation
You will need to book your free consultation so that we can determine the most appropriate treatment option. Once confirmed, we will create a detailed treatment plan for you. Unless specified prior to treatment, we guarantee all our treatments for 12 months. Please read our FAQs about teeth straightening for a better understanding of the procedures.
What are the benefits?
The latest orthodontic treatments are quick and safe, making straighter teeth and a beautiful smile much easier to achieve. They are also much more discreet than traditional braces.
How long can I expect my teeth to remain straight?
Once your teeth have been aligned into the perfect position, you will need to wear a retainer at night to keep your teeth from gradually moving out of position while the surrounding gums and bone settle. You can then expect your teeth to remain straight for many years to come. We advise all of our patients to book regular routine appointments to maintain the perfect smile.
How long will it take?
This will vary on the treatment selected and also on the on the severity of your case. The Invisalign treatment will typically take between 9 and 18 months. Inman Aligners can generally straighten front teeth in as little as 6 to 18 weeks.
How much will it cost?
We have ensured our teeth straightening prices are extremely competitive when compared to other expert orthodontists in Southend and Essex.
Please book a consultation with us so that we can assess your teeth. You can book an appointment online or call 01702 352 450 for more information.